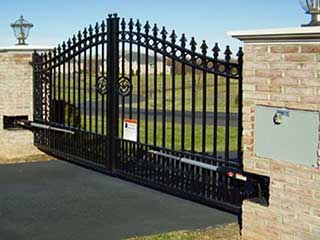 An electric gate is a type of entranceway that is powered by electricity. While almost all modern types of automatic entranceways require electricity to run, there are variations in their mechanism and operation. There are many types available in the market, but the most common in residential applications are swing and sliding. At Gate Repair Murphy, we provide solutions to all problems related to such automatic gates.
Automation technology is a boon to humanity as it helps us in carrying out the most mundane of tasks with high efficiency and ease. An automatic driveway is a perfect example of such a technology. But, it does come with its share of concerns. When compared with its counterparts, an electric driveway requires considerable care while it is operated on – be it for opening/closing the doors or repairing purposes. In addition, US safety regulators have laid out certain guidelines regarding the installation of such electrically-powered equipment in residential places. Preventive measures have to be taken while such systems are handled. All our technicians have received industry-standard training, and are well-versed with the fundamentals of electromechanical motion.
Repair and Replacement of Electric Gate Parts
Other than our primary service of repairing, we also provide replacement services to our customers. When an electric gate or any of its parts becomes defective, it is better to repair them the first time, especially it it's still brand-new. But, if a certain component, say, like the opener, malfunctions frequently, it is probably best to replace them. All mechanical and electrical products are rated by their manufacturers and 8 out of 10 times, they will work beyond their ratings. However, situations like a minor short circuit or wire snapping can cause substantial damage to these parts. Using faulty and fake parts may cause the whole entranceway to malfunction.
We deal with all local and international brands and manufacturers such as Ramset, Liftmaster, BSL, DKS, and FAAC. Our associations with these brands helps us to solve problems with all types and models.
Get Your Property Tested for Safety
Maintenance services is another one of our primary offerings. Since they are slightly more complex than other types, our technicians recommend that home owners get their properties tested at least twice per year. Such a test will help you determine whether your security gate is in good standing or not. If there are any problems with its working, our technicians will fix it immediately.
Our safety tests and quality checks are two of the best-selling services in Murphy.
Need more? We also provide:

Linear Gate Intercoms

Elite Gate Opener

Wrought Iron Gates

Sliding Gate Wheels