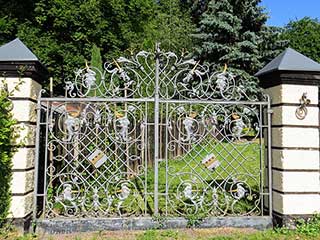 Sometimes, we all need a bit of a helping hand with our iron gates. That's when our team of professionals can come to the rescue. We've been taking care of iron gate repairs and installation in the Murphy area for over a decade. Whether you've got rusty hinges, broken bars, or any other issue with the gate, fences, and/or opener, we're the local technicians to call.
Iron Gate Repair Specialists Near You
Problems with a swinging iron gate can become a nuisance and a major hindrance. You don't want to spend time waiting for help to arrive when your iron gate doesn't open or close. Well, with us, you and anyone else near Murphy won't have to wait long at all. We'll send one of our qualified technicians to your home or business on the same day you call us. Our experts will take care of the iron gate repairs for you and make sure everything's working as it should before we leave. We'll also give you some basic gate maintenance tips to keep your gate working properly.
Proper Iron Gate Maintenance
Anything that is left out in the open is bound to have issues and your iron gate is no exception. Being exposed to the elements constantly will lead to gradual wear over time. Iron gate hinges get noisy over time, and may even become loose. That will affect the movement of the swing doors, and can cause them to get stuck open or closed. Obviously, you'll want to avoid that, which is why maintenance is so important for iron gates. But there's more than just the swinging leaves that needs attention. Our skilled technicians will also check your iron gate fences. If anything has moved, dislodged or just needs a little TLC, we'll take care of it on the spot.
Iron Gate Installation Services
Many homes and businesses in the Murphy area have iron gates installed for their durability and beauty. They also offer added security for your property. We offer a full iron gate installation service with a free consultation and quote. We work with our customers to help them choose the best driveway gate for their homes. Of course, if you want something a little different, we can design a custom iron gate so you get exactly what you envisioned for your property. Give your home an iron driveway gate that is secure as well as offering beautiful street appeal.
Unexpected Iron Gate Problems
A driveway gate is only secure when everything is in place and efficiently functioning. Accidents happen, so you may have a few iron gate bars that have been knocked out of place or you may have bumped your driveway gate, slightly dislodging it. Call Gate Repair Murphy, and we'll send one of our specialists to fix any swing hinge, bar or door problem your iron gate has. Our repairmen will check your entire automatic gate, including the motor if you have an automatic one. Once we discover the problem, repairs are carried out quickly and efficiently. What's more, we won't leave until the job has been completed to your satisfaction.
Murphy's Best Iron Gate Experts
Whether you're in the market to have an iron gate installed or your existing system isn't working as it should, call us today. We'll send a fully certified technician straight to your door. We'll show you an exciting selection of iron gates and fences, including wrought iron if you want something extra special. Don't let a broken gate compromise the safety of your family or your home. A secure gate will give your home grace and charm while keeping little children and pets safe. Call today and secure your grounds.