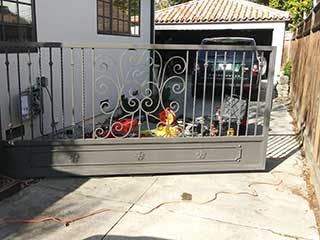 Driveway gates are a home's first and most important line of defense against unwanted intrusions into your home and business. They are strong, reliable and provide homes with unprecedented protection and safety, but even these mighty appliances are likely to take damage from time to time. When your electric gate won't open and close, has come off of its hinges or is looking worse for wear thanks to the ravages of time and the weather, be sure to contact us at Gate Repair Murphy for assistance with all kinds of manual and automatic gate repairs. Here's how we can help you today:
Restorations and Gate Repairs
Even the mightiest of gates may take damage after a while from accidents, harsh weather conditions and simply old age. A lot of gate owners are content to simply let these damages slowly eat away at their gates, thinking that their restoration may come at a high cost or may be difficult to conduct. The good news is that our technicians are here to help you with driveway gate repairs that are sure to recover them from the damages of rot, splintering and rust to ensure that they beautify and protect your home as they are meant to.
Motors and Openers
If your electric gate isn't opening, the problem is very likely with the motor. Motors and openers can take damage from friction, accidents and harsh weather, but their failure is no cause for alarm. If your motor has given up the ghost or is behaving in an odd way, speak to one of our technicians about having your gate opener repaired or replaced as soon as possible.
Repairing Hinges and aligning Gates
Your gate's hinges are responsible for ensuring its seamless operation, keeping it safe to use, and also makes sure that it is always correctly aligned so that it looks and works as beautifully as you would expect. Unfortunately, the stress of their jobs and the weight of your gate may lead them to fail, which can cause no end of problems for your system. If this has happened to you, we can offer you hinge welding as a part of our gate repair services to ensure that your gate is always working as it should.
Contact Us Today!
Call today for more information about our services at Gate Repair Murphy, for advice on your gates at home or business, or simply for an estimate.
We are waiting for your call.
Count on our team for:

Phone Entry Systems

Rollup Gates

Gate Opener Keypads

Driveway Gate Adjustment