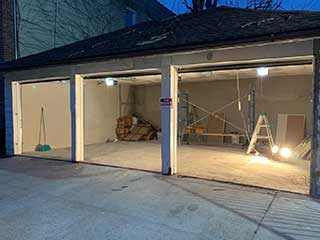 Our team of professionals is here for you when your garage door starts disrupting your daily schedule. Here are a few of the most common reasons our customers call us for.
Damaged or Rusty Panels
If left unattended, those small dents, cracks and rusty patches will grow and spread until panel replacement becomes the only option. However, replacing a couple of panels can sometimes cost the same as replacing the whole door! Keep in mind, though, that the impact that caused the damage to the panels is also responsible for bent tracks, unbalanced door, etc. This is why our technicians will first make sure your system is safe and then make the door look their best!
Troublesome Door Opener
If your door goes part way down, changes its direction and goes back up, there's a good chance you can fix this yourself by adjusting travel and force limits. But if the problems with your opener have anything to do with its safety features, it's better to let professionals take care of it and set your mind at ease. In case you want to upgrade your unit, we can help with that as well! We will go through the available options and make sure the unit of your choice is safer, quieter and within your budget.
Door is not Properly Balanced
A well balanced door doesn't feel heavy when opened by hand and stays open when raised half way. It also doesn't shoot right up and doesn't slam closed. If you experience any of the above when your door is in manual mode, act fast and prevent further damage to the system. Depending on the state of the springs, our technicians can either lubricate them and adjust spring tension or install a new set. Our experts have adequate tools and more than enough knowledge and experience to do this safely and efficiently. You're in good hands.
Call Gate Repair Murphy, TX when you want the solution that is both cost-effective and long lasting and our team will make your garage door as good as new.