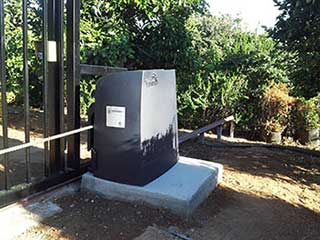 If the security or driveway gate at your Murphy home or business doesn't have an opener, it's time to get serious about getting one. While having a gate is a definite bonus for keeping your home and ground safe and secure, without a gate opener, your gate is less effective. You will need to physically open and close your gate every time you leave your home or come back to it. Then too, you also need to leave the comfort and safety of your home to open the gate when visitors come calling. No one knows this better than Gate Repair Murphy. We have the skills and the expertise to repair gate openers or install them and make life easier for you and your family.
Linear Ram Gate Opener
The most common type of gate opener used is a linear ram opener. The arm of this opener is secured directly to the gate and the pillar or post. Linear ram gate openers are the simplest to use and are the easiest to install. This makes them a popular economic and logistic choice for gate owners. They are suitable for double-gated entrances as well as single ones. If you have overly large pillar you need to navigate your gate around, look at installing the following kind of opener:
Articulated Arm Gate Openers
Not all gates and entrances are the same. Some gates form part of an entire fencing system, while others feature posts and pillars. That means that you need to find the right gate opener to work well with your gated entrance. An articulated arm gate opener is very similar to a linear ram opener except for one little factor. The articulated arm is a hinged arm that can be installed to reach around any pillars or other set features near your gate. It contracts when you open your gate and extends to close your gate. This type of articulated arm opener is most suitable for swinging gates that are secured to large pillars and work well with dual or single gates.
Underground Gate Openers
If image is everything to you, and you don't like the idea of your gate opener circuit box standing out like a sore thumb, then Gate Repair Murphy has something for you. Just call us and ask us about underground gate openers. The opener is concealed in a secure metal box and set in concrete just under the arm of your swing gate. Although this is aesthetically pleasing, there is a downside. It is more complicated to install than other gate openers. Why? Because you need to ensure the area around the underground gate opener has sufficient drainage. It is, after all, an electrically powered device and you need to ensure it is well protected from seeping water and the elements.
Local Gate Opener Experts For Murphy & Nearby
Don't settle for second best when it comes to your gate and gate opener. At Gate Repair Murphy, we have the best quality gate openers from trusted manufacturers such as Doorking, LiftMaster and a few others. Our team of technicians and installers are all fully qualified to install your gate opener and ensure it works smoothly. Call us anytime for repair services or more info on the latest gate openers we can offer you.
Count on us when it comes to:

Ornamental Iron Gates

Liftmaster Gate Opener

Doorking Gate Intercoms

Residential Gate Repair