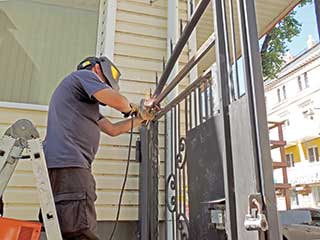 If you want security for your Murphy business or home, then a custom gate is the right solution for you. We offer a huge selection of options, from chain link doors to wrought iron bars, wooden swing doors, and strong steel slabs. We specialize in making and installing custom gates and fences. Choose from a wide range of different designs in an impressive number of materials such as iron, steel, and real wood. This makes it easy to find the perfect gate for any property, and we make it even more straightforward by providing free estimates to anyone looking to have gates installed near Murphy.
Speak to our experts today to see how much we can do to help you.
Affordable Rates For Steel Gates
Tough and long-lasting, steel gates are the go-to choice for homeowners who want to keep their property secure. Steel is a very popular material for plenty of reasons, but its strength and resilience to wear and tear make it an easy choice for many people. Of course, this isn't the only reason why steel gates are a great choice. We offer plenty of attractive designs for driveway or garden gates, so you can easily get maximum curb appeal.
Top Quality Wooden Gates
At Gate Repair Murphy, we believe that wood is one of the best materials around. That's why we offer such an impressive selection of custom wooden gates so that you can easily pick an attractive and durable installation for your Murphy property. We use the best real timber around, which guarantees a great-looking entrance to your home. Of course, you'll need to take care of wood to avoid rotting and warping over time. Thanks to our experienced technicians, based in your area, you can easily schedule repairs and maintenance regularly.
Murphy's Best Iron Gate Installers
If you're looking for a classic gateway, then we recommend choosing from our selection of custom iron gates. These are some of the most iconic driveway gates around, providing your property with unmatched curb appeal. You can even design your own iron gate, using our long experience and expert knowledge to craft the perfect entrance to your home. Of course, while iron is an extremely strong material, it also requires regular maintenance to avoid rust. Speak with our Murphy -based experts today to learn more about iron gates, and how our team can help you take care of them.
Schedule Your Free Estimate Today
You'll want to know more about our impressive range of gate installation options, and our team is always happy to help. Simply get in contact with us today and we'll answer any questions you have about our custom gates and fences. Arrange a free quote, too, to see just how affordable our custom gates turn out.