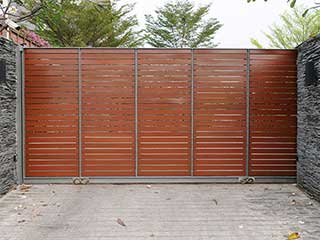 If you want to make a great first impression when people arrive at your home, then a wooden driveway gate is the ideal choice. You won't find a better range of high-quality custom wood gates anywhere else in Murphy or nearby. Our excellent selection of wooden gate designs use the best grades of timber, and we provide different designs to suit properties of any style. Find out how Gate Repair Murphy can improve your driveway or garden entrance by contacting us for a free estimate today.
Cheap Wooden Gates For Your Murphy Driveway
We believe that any home can be enhanced with custom wood gates. These bring so many benefits that it's easy to see why so many Murphy homeowners choose to install wooden gates at their properties. First of all, wood looks great. There's something iconic about the look and feel of real timber, and it suits practically any home. Wood is also a great choice in practical terms. Because it's easy to build large pickets and panels, you'll get more privacy with a wooden entranceway than you would with other materials.
Low Cost Gate Installation
Nobody wants to spend a lot of money installing their new gates, and our reasonable rates mean you don't need to worry about this. Our technicians have many years of experience, so when we install gates at your property you'll get the best service around. We'll make sure your new wooden driveway gate stands the test of time, thanks to our tried-and-tested installation process. Why not find out more today by scheduling a time for your free gate installation estimate?
Affordable Wooden Gate Repairs
Sometimes your wooden gate might need some professional attention to keep it in perfect condition. Regular maintenance is an important part of avoiding rot or warping, and we offer a full protection service that includes repainting and sealing your wooden gate system. For other problems, such as gate post repairs, our Murphy-based wooden gate experts can provide all the help you need. Simply get in touch with us today and we'll schedule a time to repair your wooden gate.
Quality Wooden Gates And Fences – Free Quotes
If you're looking for the best quality around, then you've come to the right place. It's our mission to provide long-lasting wooden fences and gates throughout the Murphy area. From bi-fold gates to sliding and ¾ length units, we provide every style you could need for your home. Even better, our Murphy team gives you all the in-depth advice and guidance you need to find the ideal fitting for your property. There's no need to guess because you can always speak with highly experienced experts. Why not get in touch today to find out more about our range of custom wooden gates?